Calcutta, June 1942. Some players and officials at the East Bengal football ground were shocked to see a thin man, looking almost destitute, walk into the tent. The man was a refugee from Rangoon. What happened next is a stuff of legends. A thread. 
It was the summer of 1942. The world was in the throes of the most devastating war mankind had seen. Slowly, the embers of war had spread to Asia. In February, Rangoon fell to Imperial Japan. 
This watershed event prompted a great exodus of Europeans, Anglo-Indians & Indians from Rangoon back to Indian territory. The British administration only allowed Europeans to be repatriated back on ships and boats.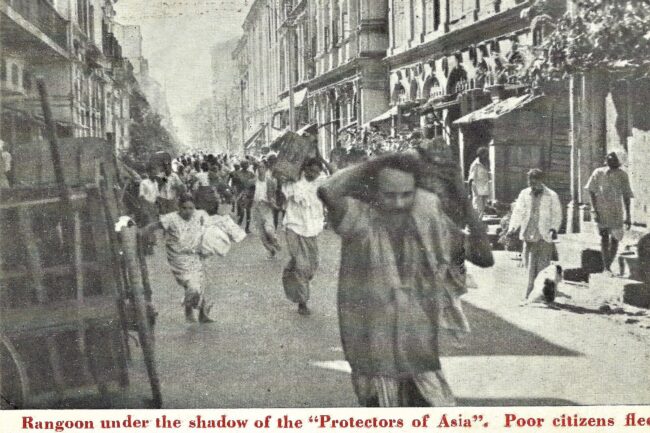 Other refugees were left to fend for themselves. In the face of Japanese invasion & growing anti-Indian sentiment, these hapless people were left with only one option: to trek thousands of miles through forests and mountains and reach India through Manipur or Arakan. 
Astonishingly, more than 2 lakh people risked their lives and walked to India by foot while navigating the perilous terrain. The actual number of refugees who perished while travelling may have been higher than the estimated 4,000.
One of them, our hero, travelled about 500 kilometres solely on foot while clutching the hands of his wife and daughter and navigating the treacherous terrain of mountains, dense forests, and rivers. After he entered the East Bengal ground, some of the officials recognized him. 
They'd met him during a football trip to Burma. He was one of the top footballers in Rangoon in the 30s and early 40s. And now, he was one of the unfortunate millions who had traversed hundreds of miles on foot for a better future. 
His name was Fred Pugsley and this is his incredible tale. Having arrived in Calcutta with his young family, Pugsley went to the only place he knew, the East Bengal club. Seeing his miserable condition, the officials decided to sign him. But they were concerned. 
Pugsley was already past his best. Plus the arduous journey through Arakan had left him in a sickly state. Pugsley could play only 3 games in the 1942 season. So poor was his condition that in one of the matches, he started vomiting blood. 
Doctors advised not to field him. Luckily at this time, Pugsley secured a job at Burnpur steel plant & moved with his young family there. With a war raging, it was difficult for him to get leave and he only made sporadic appearances in '43 & '44 seasons.
By 1945, Pugsley was thought to have been done as a player. But a surprise awaited. With the end of war approaching, Pugsley was able to convince his employer to grant him leave for the full Calcutta Football league season. 
In the season opener against EC Customs, he scored 3 goals in a 6-0 win. In the next Vs Rangers, Pugsley went one better as EB won 6-1. He remained prolific in that season ending as top scorer with 21 goals as EB defended their league title successfully. 
But Pugsley's best was yet to come. Calcutta football was just warming up to the Calcutta derby sentiment. The 1945-46 IFA shield final pitted the two Calcutta giants against each other. Excitement was at an all-time high.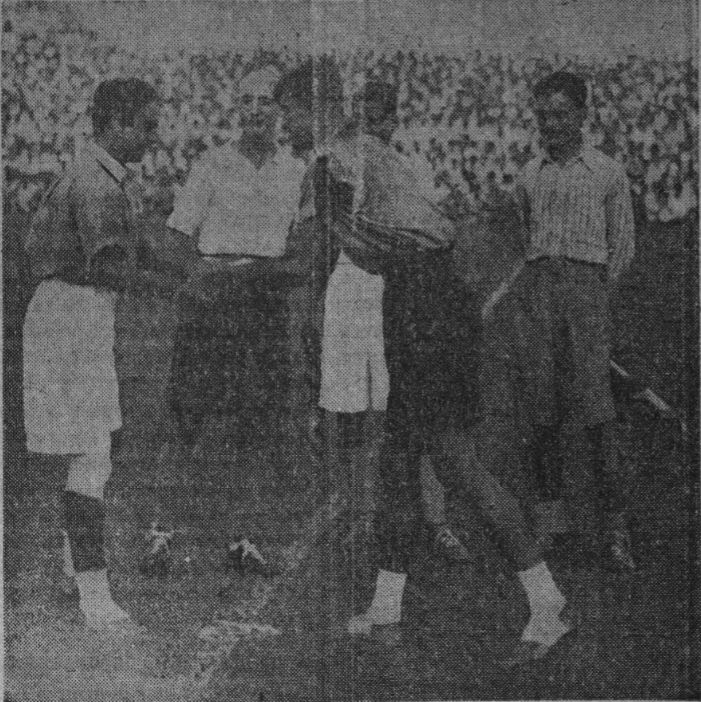 Large crowds had come in from the districts to watch the final. Allegations of sabotage flew thick & fast to the point that additional police forces were kept ready in anticipation of violence. Meanwhile, while the war had ended in Europe, it was still raging in Asia. 
The British crown was determined to recover Burma and a casualty was Pugsley's leave – he hadn't made a single appearance till then. Hours before the final was to start, Pugsley shocked everyone by walking into the tent. 
In a tightly fought encounter at Mohun Bagan ground, East Bengal defeated their arch rival by a solitary goal netted by the thundering left foot of Pugsley. It was East Bengal's first Calcutta League/IFA Shield double. 
And the man who made it possible was the Anglo-Burmese refugee who had travelled through forests and mountains in search of a better future. Fred Pugsley was a goal-machine like no other in Indian football and this is the greatest refugee story Indian football ever had.
This story is created as a collaborative effort between The Paperclip and The Wikimedia Foundation to empower knowledge sharing through storytelling. You can read more about the collaboration here.
---
Source and references:
The story is exclusively sourced from Wikipedia articles and relevant citations. For further reading follow the links – 
https://en.m.wikipedia.org/wiki/Fred_Pugsley
https://en.m.wikipedia.org/wiki/Burmese_Indians
https://en.m.wikipedia.org/wiki/East_Bengal_Club
https://en.m.wikipedia.org/wiki/List_of_foreign_players_for_East_Bengal_Club
https://en.m.wikipedia.org/wiki/Kolkata_Derby
Image attributes: 
Bipin Behari Kapur, Rangoon, Burma, poor citizens flee as Japanese warplanes approach December 1941, public domain from Wikimedia 
Jugantor Patrika, 1945 IFA Shield Final – East Bengal and Mohun Bagan captains before the match, in which, Pugsley scored the lone goal. CC BY-SA 4.0 from Wikimedia.