Authored by Barun Ghosh (@barunghosh)
What connects a 17th-century battle between two Mughal princes and a sports stadium in the national capital?  Read on to find out.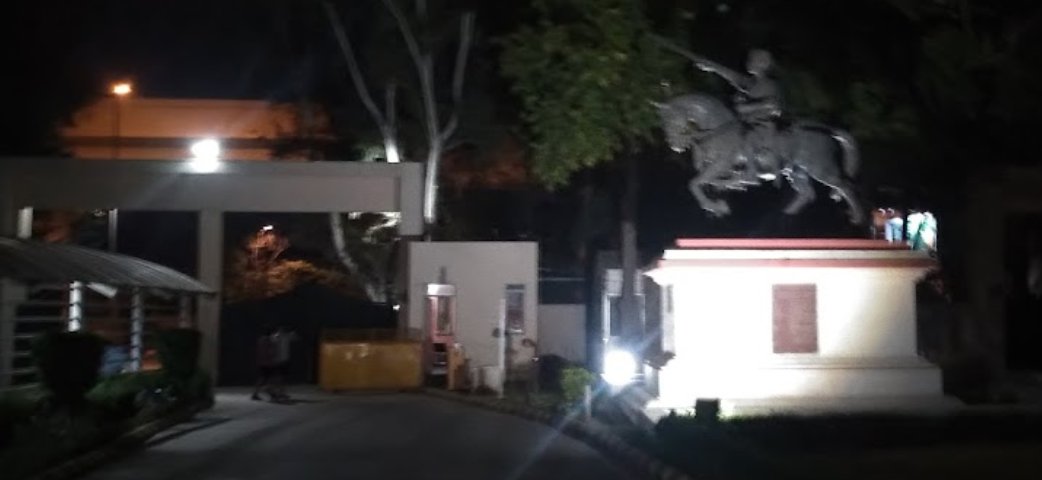 You must've read in history books about the epic battle between the two Mughal princes Dara Shikoh and Aurangzeb that took place in Samugarh, 16 Kms from the Mughal capital of Agra. 
Shah Jahan had appointed three of his sons as governors of different parts of the Mughal Empire and kept his favorite and eldest son who was the heir apparent, Dara Shikoh, with himself at Agra.
Shah Shuja was sent to Dacca as governor of Bengal, Murad Baksh was appointed governor of Gujarat and Alamgir Aurangzeb was posted in Daulatabad as governor of Deccan. 
In 1657 Shah Jahan fell ill and made Dara Shikoh, regent of the Mughal Empire. This act immediately caused consternation amongst his three brothers scattered in different parts of the Mughal Empire.
Shah Shuja was the first to act, declaring himself emperor and marching towards Agra with a large force. However, Shuja's army was defeated in the Battle of Bahadurgarh near Varanasi by the Imperial Army. Shuja had to sign a treaty conceding control of large parts of his subah to Dara Shikoh.
Meanwhile Aurangzeb started plotting with Murad Baksh and they both agreed to proceed jointly towards Agra while Dara and his Imperial troops were bogged down in Varanasi. Upon learning about this move, Shah Jahan sent Maharaja Jaswant Singh Rathore of Marwar to stop the two errant Mughal princes from their march towards Delhi.
Outside of Ujjain at a place called Dharmat, the combined forces of Aurangzeb and Murad Baksh came face to face with Maharaja Jaswant Singh Rathore. In this battle, the Imperial troops consisting of many Rajput clans were defeated by the forces of the Mughal princes. Following this victory, the road to Agra lay open for them. 
Dara Shikoh who had very little battle experience compared to Aurangzeb and Murab Baksh looked to his loyal nobles for guidance on how to stop the advance of his brothers' combined troops. It was then that Dara began to rely heavily on Rao Raja Chhatar Sal of Bundi.
Rao Raja Chhatar Sal was first mentioned in the Shah Jahan Nama on the fifth anniversary of Emperor Shah Jahan's reign, where upon the death of his grandfather Rao Raja Ratan Singh, he arrived in court as a representative of Bundi and congratulated the emperor on his fifth successful year.
Raja Chhatar Sal was a much respected man renowned for his chivalry, bravery and intelligence. During his reign, Bundi prospered. He was also a highly influential figure in the Mughal court. Dara Sikoh's sister Jahan Ara considered Raja Chhatar Sal as a rakhi-bound brother. 
This further cemented his bond with Prince Dara Shikoh. Raja Chhatar Sal was appointed by Shikoh as governor of Shahjahanabad (Old Deli) and also accompanied the prince on major military campaigns. Thus this strong bond was what Dara Shikoh fell back on in time of crisis.
In May 1658 when the combined forces of Murad Baksh and Aurangzeb met with the forces of the imperial troops led by Dara Shikoh, the Rajput contingent led by Raja Chhatarsal Singh was standing shoulder to shoulder with Dara.
All the Mughal princes were leading their troops atop their own personal war elephants. The Rajputs of the imperial army lead by Raja Chhatarsal Singh managed to isolate the elephant of Murad Baksh, who was injured due to this assault. Aurangzeb on seeing this, rushed to the rescue of his younger brother but himself was accosted by the Rajput warriors. 
Around this time in the middle of the battle, Raja Chhatarsal's wounded elephant turned away but the battle-hardened Rajput jumped down and mounted a horse and continued to fight. Finally he sustained one too many injuries and met his end on the battlefield defending his friend, Dara Shikoh's claim to the Peacock throne.
A few centuries later in Delhi in 1980, the Chhatrasal Stadium was inaugurated and was later renovated in 2010. It served as a venue for both the Asian Games of 1982 and the Commonwealth Games of 2010.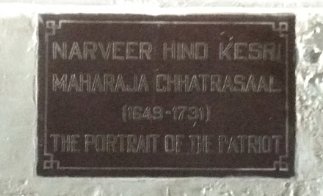 A statue of Chhatrasal Bundela stands outside of the stadium after whom the building is named. It could be because of the similarities in the name of the two kings divided by a few decades; this might be a misnomer as Rao Raja Chhatarsal was at one point of time the Governor of Delhi whereas the Bundela Chhatarsal never even came to Delhi and lived his life in Bundelkhand.
Rao Raja Chhatarsal epitomized the true spirit of the Rajput clans of Rajasthan: fierce loyalty and intense bravery. Dara Shikoh was unlucky and lost his life by the end of the struggle for the peacock throne but he must have always felt fortunate to have a friend like the Raja of Bundi.