If you're a fan of Brazil's vibrant  football, raise a toast to the club that rose above racism and revolutionised Brazilian football by including black and multiracial players. However, their shirt conveys a terrifying tale of massacre and spice trail on India's Malabar coast. Read on.
Brazil was the last place in the Americas to abolish slavery. All through the 1920s, football was a sport for the affluent. Working-class athletes of black or mixed-racial ancestry were not entitled to compete in the aristocratic league.
In that era of social exclusion, a football club was born in Rio de Janeiro. They were an inclusive team of players of different social and racial identities. This racially diverse squad didn't appease the elites. 
Some of the players who did not represent the "elite" class were asked to be banned. The club stood strong. They refused to adhere to such a racist demand. Their President replied with a letter that has come to be known as the Resposta Histórica, Historic Response. 
The letter promoted diversity, started a forward-thinking dialogue, and eventually the ban was lifted. The indomitable 'Club de Regatas Vasco da Gama' was accepted into the league and made history by becoming the first team to win, fielding players of black and multiracial heritage.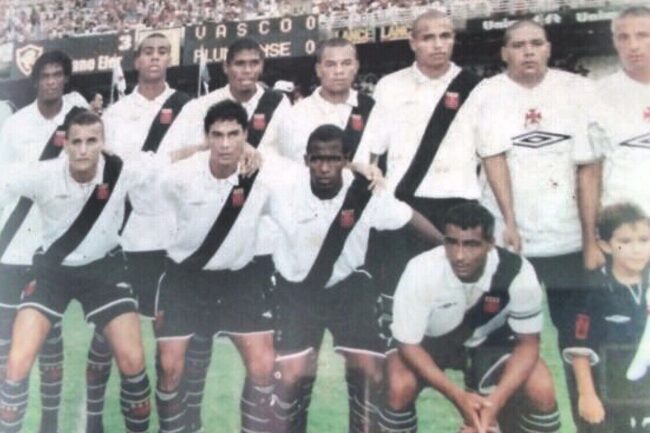 Club de Vasco became a symbol of resistance against racial and social prejudice. They were known as "Clube de todas as razas" (Club of all races). That's an intriguing story itself but, did you notice the diagonal white slash on their shirt? Believe it or not, it takes us to Calicut in the 15th century. 
The club was originally founded as a rowing club late in the 19th century and was given the name Vasco da Gama in honour of the Portuguese explorer who made the first voyage from Europe to India about 400 years ago.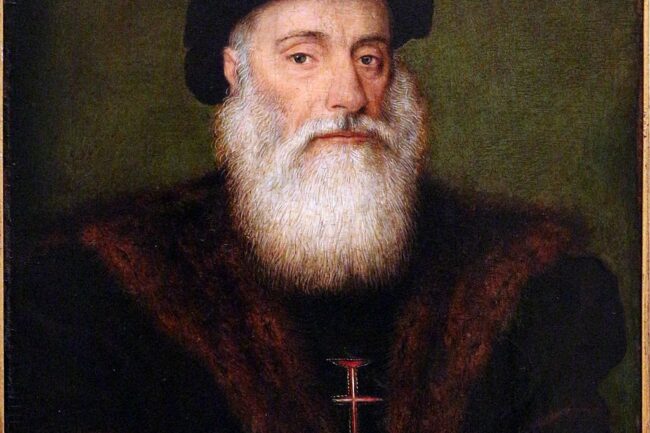 The year was 1498 and the Portuguese fleet was sailing across the Indian Ocean. The fleet, led by Vasco da Gama, made its way towards India "in search of Christians and spices".
After years of efforts to reach India that resulted in thousands of deaths and countless shipwrecks, Vasco Da Gama eventually arrived in Calicut on May 20, 1498, having crossed the Atlantic and Indian oceans through the Cape of Good Hope.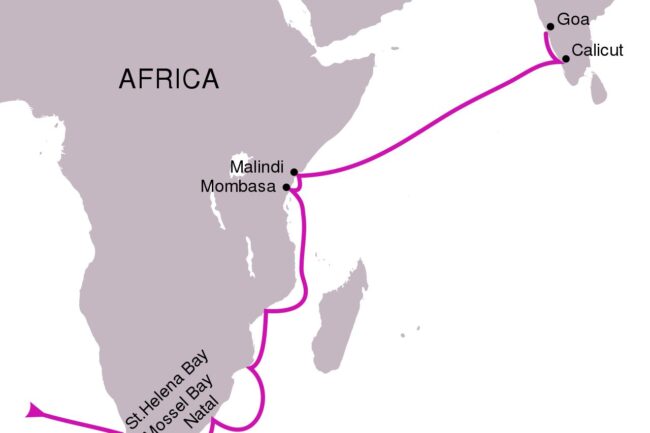 Da Gama's discovery of the sea passage to India is widely regarded as a watershed event in world history since it ushered in an era of global imperialism and allowed the Portuguese to build a long-lasting colonial empire from Africa to Asia.
His recourse to violence and brutality gave the Portuguese a notorious reputation that would serve as a template for western colonialism for centuries to come. His subsequent voyages led to countless hostility and massacres along the coast of Malabar. 
To establish his power, he even ransacked a ship carrying more than 400 Muslim pilgrims, including 50 women, and burned them to death. This event, along with many other acts of brutality, helped establish Vasco da Gama's reputation as a man to be feared.
Club de Vasco da Gama's emblem and shirt include a diagonal slash that symbolises the ancient route of the legendary voyage the Portuguese explorer undertook to reach Calicut through the Cape of Good Hope, and gained access to the lucrative spice trade of India. 
Imagine how a humble slash on a shirt that battled racism in Brazil, could conceal a 500-year-old history of maritime expedition, shipwrecks, massacres, battles, and a stone monument in a coastal village in the district of Kozhikode that reads, "Vasco da Gama landed here."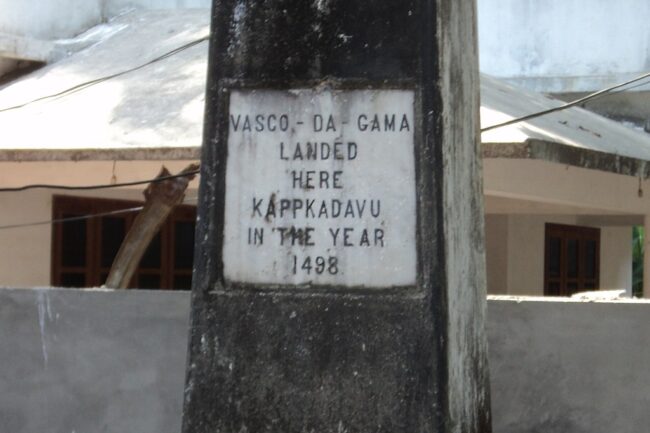 And this was our story for 'Football Unheard'. It is created as a collaborative effort between The Paperclip and The Wikimedia Foundation to empower knowledge sharing through storytelling. You can read more about the collaboration at  https://thepaperclip.in/wikimedia-paperclip-collab/
---
Source and references:
The story is exclusively sourced from Wikipedia articles and relevant citations. For further reading follow the links – 
https://en.m.wikipedia.org/wiki/James_F._M._Prinsep
https://en.m.wikipedia.org/wiki/John_Prinsep
https://en.m.wikipedia.org/wiki/James_Prinsep
https://en.m.wikipedia.org/wiki/Prinsep_Ghat
https://en.m.wikipedia.org/wiki/Wayne_Rooney
Image attributes: 
Илья Хохлов, Wayne Rooney looking reem at Euro 2012 match against Italy, CC BY-SA 3.0 from Wikimedia.
Prinsep, William, Busy riverside scene, Calcutta, with a new civil servant being carried ashore, public domain from Wikimedia.
National Portrait Gallery, London by William Wyon, Bronze medal of James Prinsep, public domain from Wikimedia. 
Princep Ghat, Kolkata, 1900s, public domain from Wikimedia.
Grentidez, Prinsep's Ghat, on the Hooghly, CC0 1.0 from Wikimedia. 
Avrajyoti Mitra, Vidyasagar Setu, CC BY-SA 2 from Wikimedia.