This article is a copyright of The Paperclip. Please take prior permission or provide necessary credits to reproduce or use any parts of the content on any print or digital medium.


In 1954, a crowd gathered to witness an unusual fight in Baroda. The challenger was Baba Pehelwan, a towering figure, pitted against a Muslim woman. The stakes were staggering – if she lost, she had to marry him. But what unfolded next was nothing short of legendary.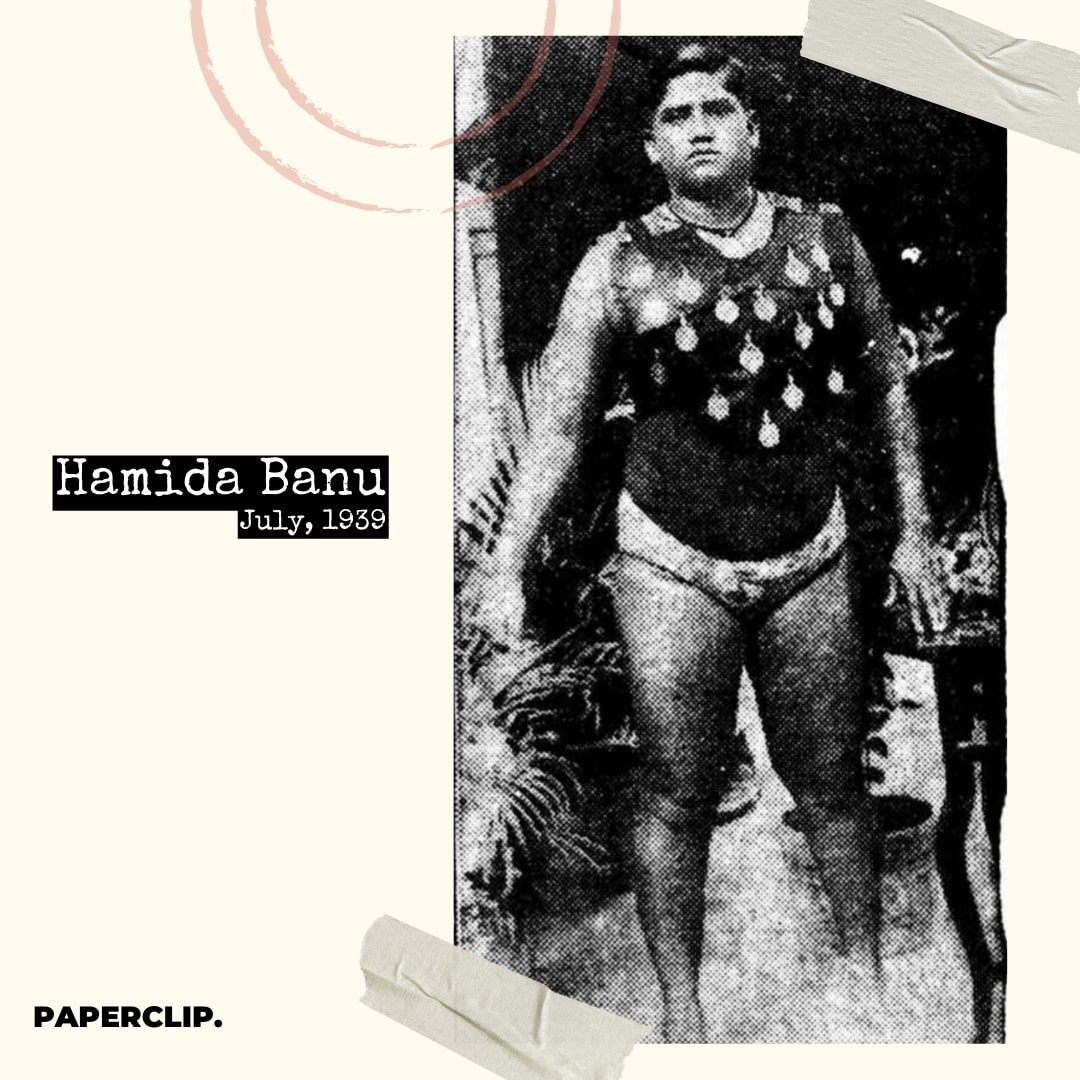 Baba Pehelwan, a giant of a man, entered the ring with confidence oozing out of every pore. He was convinced that he would defeat his opponent with ease and win her hand in marriage. To prove his point, he even declared that he would retire if he lost the fight.
But little did he know, this diminutive woman he was facing had already vanquished two suitors, one Sikh and one Hindu Pehelwan from Calcutta, in the recent past. In just 1 minute and 34 seconds, she took down Baba Pehelwan, making it his last fight.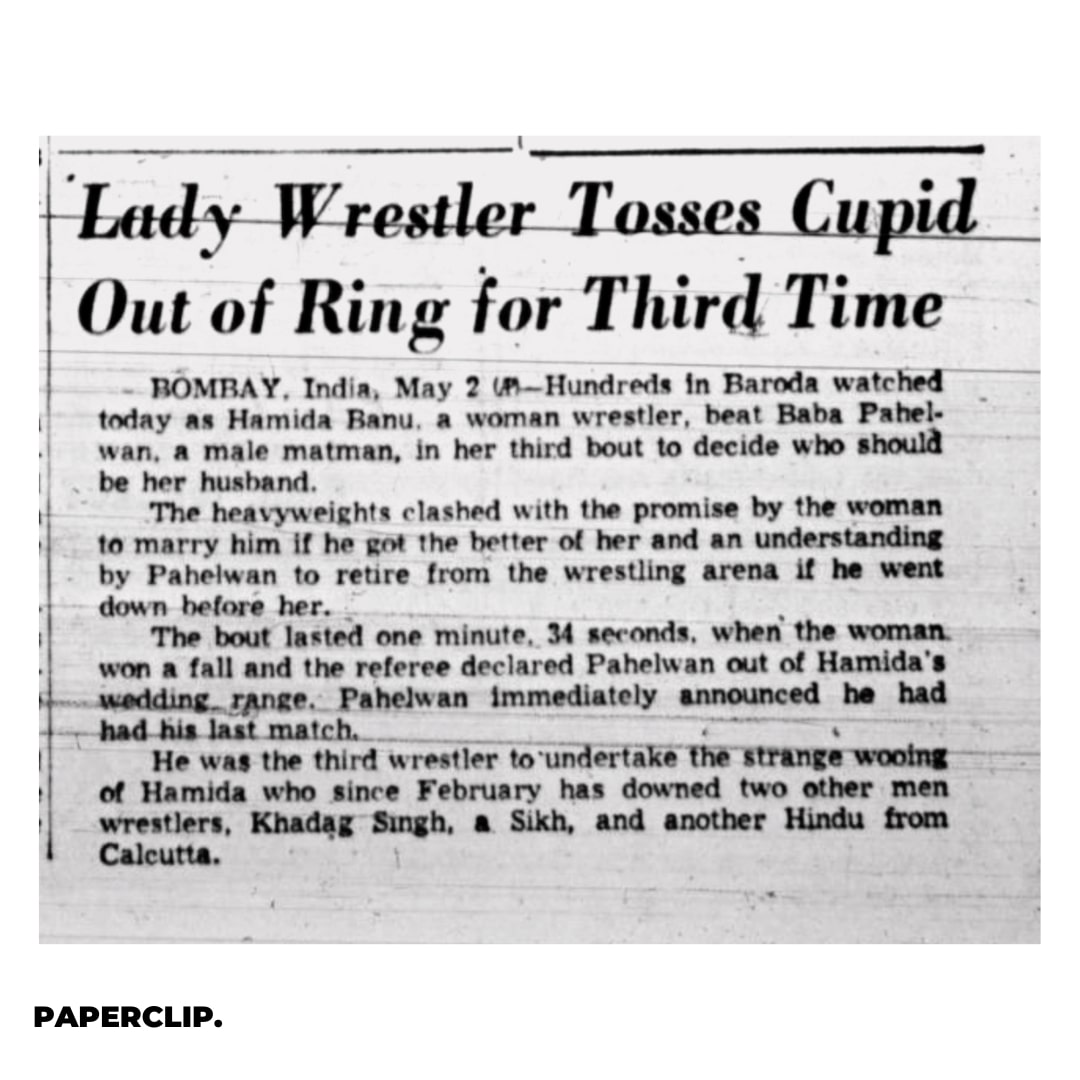 It was a shocking defeat for the overconfident wrestler and a triumph for the woman who had proved her mettle yet again. Meet Hamida Banu, a trailblazing Muslim woman wrestler from colonial India who had defied expectations  repeatedly. And this is her incredible story.
It was a time when India was still discovering itself, and Hamida was discovering her own strength. Reportedly, born in the early 1900s near Aligarh in a wrestling family, she had grown up fighting men. Remember this scene from Dangal? Hamida lived through it.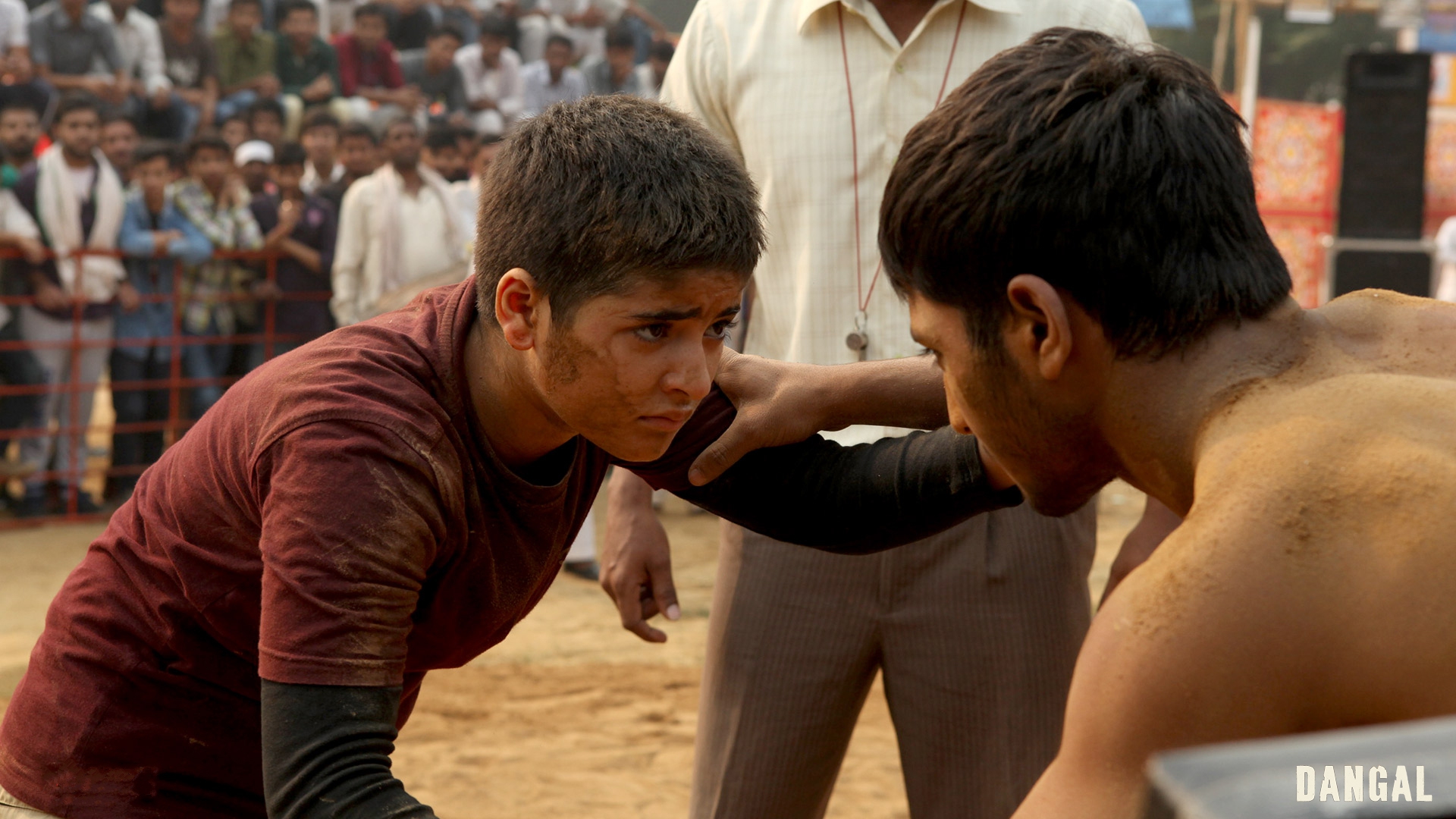 And when she made her debut in 1937, she made sure everyone knew who she was. She fought a couple of male wrestlers in Delhi, but it wasn't until she faced off against Feroze Khan from Lahore in Agra that she really got the attention she deserved.
Feroze laughed at her, at first. But then he agreed to the fight, and did he regret it! Before he knew it, this speedy woman had pinned him to the ground, and he couldn't get up. And when he finally did, she threw him back down with an energetic flying mare.
In pre-independence India, women stepping into the wrestling ring was considered taboo. It was frowned upon and deemed indecent. Also it was a time when muslim women in North India were forced to follow the purdah custom. But Hamida was no ordinary woman.
She trained just as hard as any man, with a determination that knew no bounds. Standing at 5'3" and weighing 237 pounds, Hamida was a force to be reckoned with. She defied stereotypes and shattered prejudices with every step she took to take on the man's world.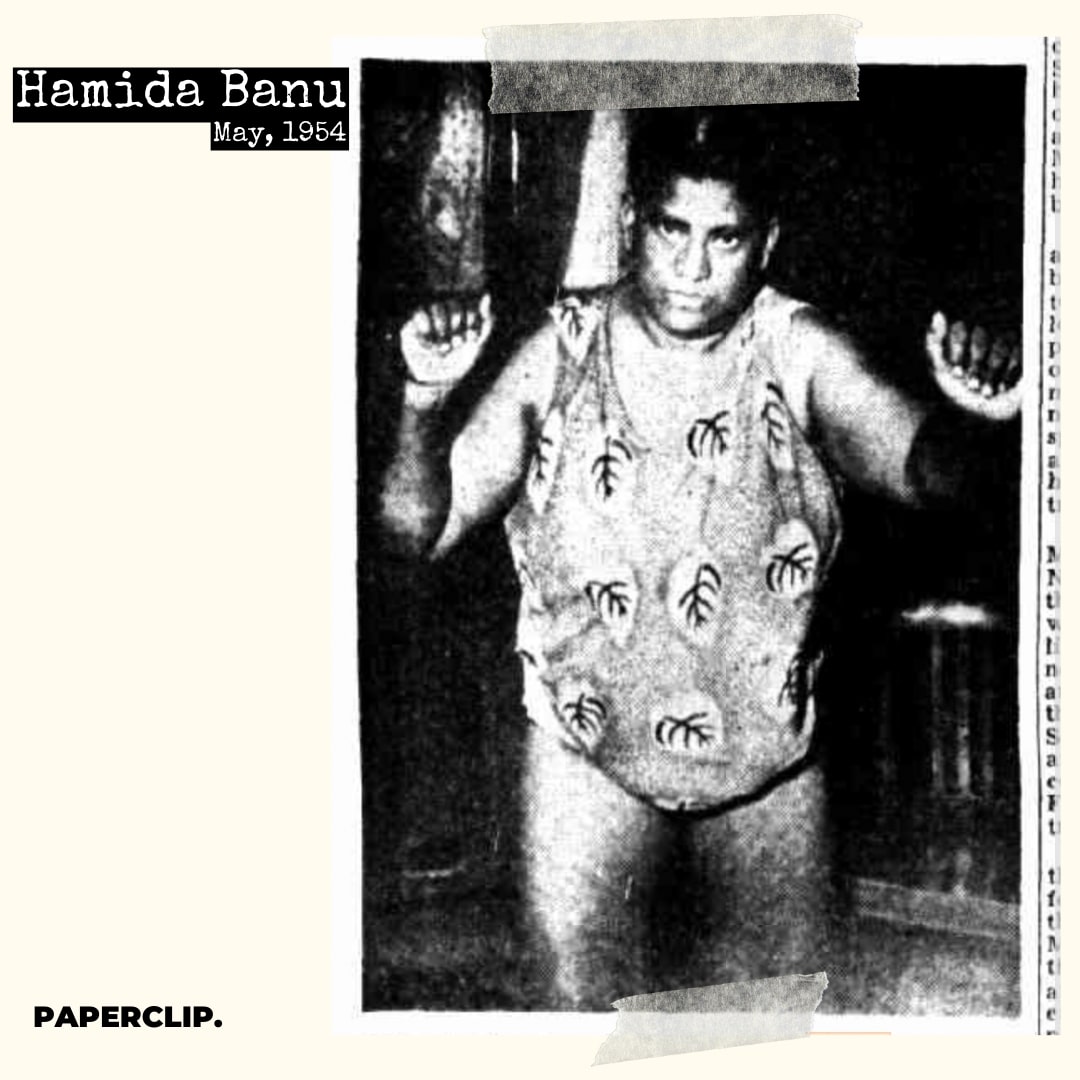 In her early days, as she stepped into the arena in Amritsar, the holy grail of Indian wrestling, she faced something more than just her opponent. Local conservative Muslim men, unable to fathom the sight of a woman wearing sports outfit in public, began protesting vehemently.
The roar of their sexist insults reverberated across the arena as they hurled stones and incited a riot, determined to crush Hamida's spirit. Though she had to flee Punjab to escape the outrage, her determination never wavered. Her fight continued. 
With a cropped hair and her wrestling attire resembling an armour, Hamida went on to dominate the wrestling circuits and newspaper headlines for over a decade. She reportedly won  320 bouts in India before she challenged European boxers for a fight.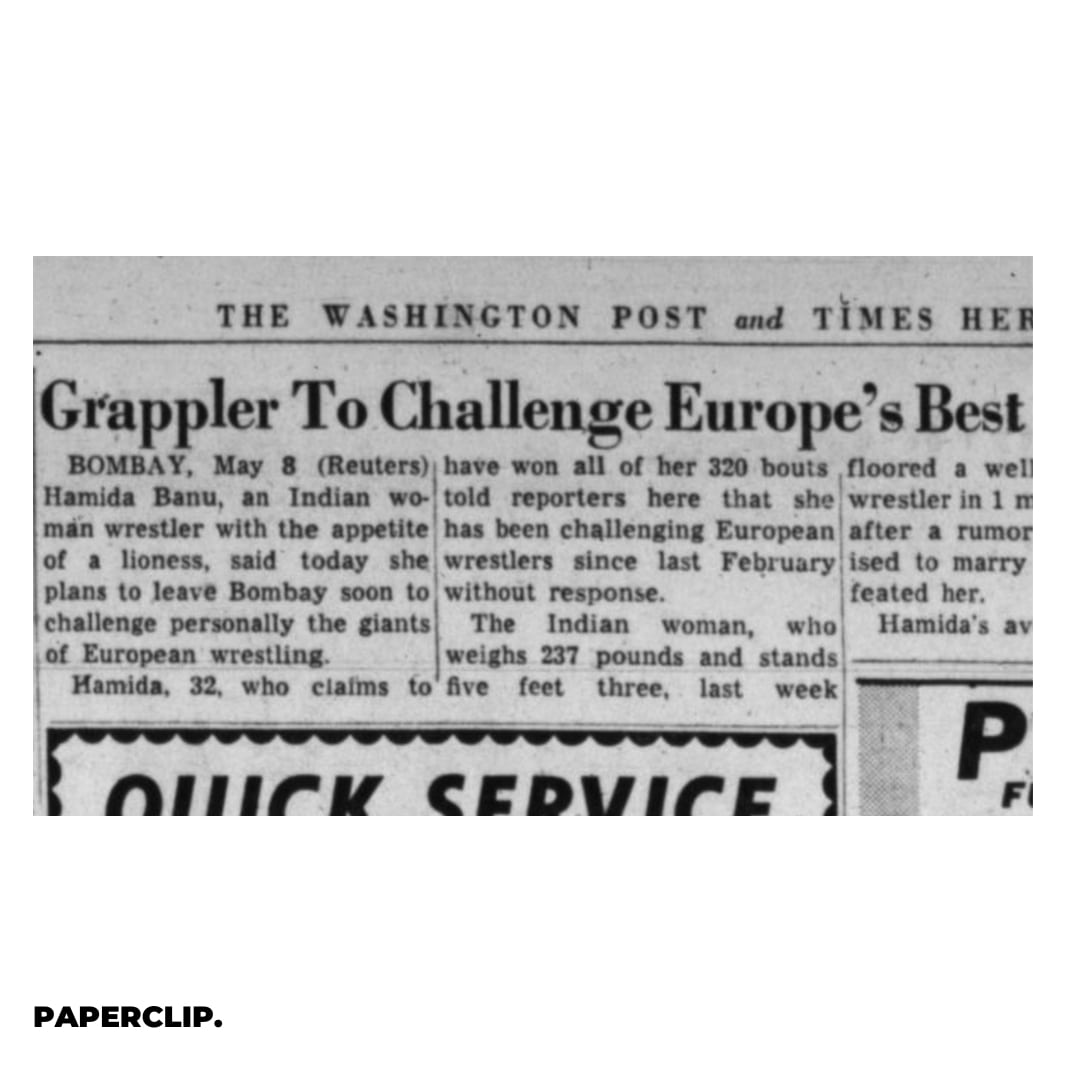 The legend of Hamida Banu, aka the "Amazon of Aligarh," has travelled far and wide, captivating the Western media. We found multiple reports detailing her extraordinary eating habits and speculating about her rumoured vow of only marrying a man who can defeat her.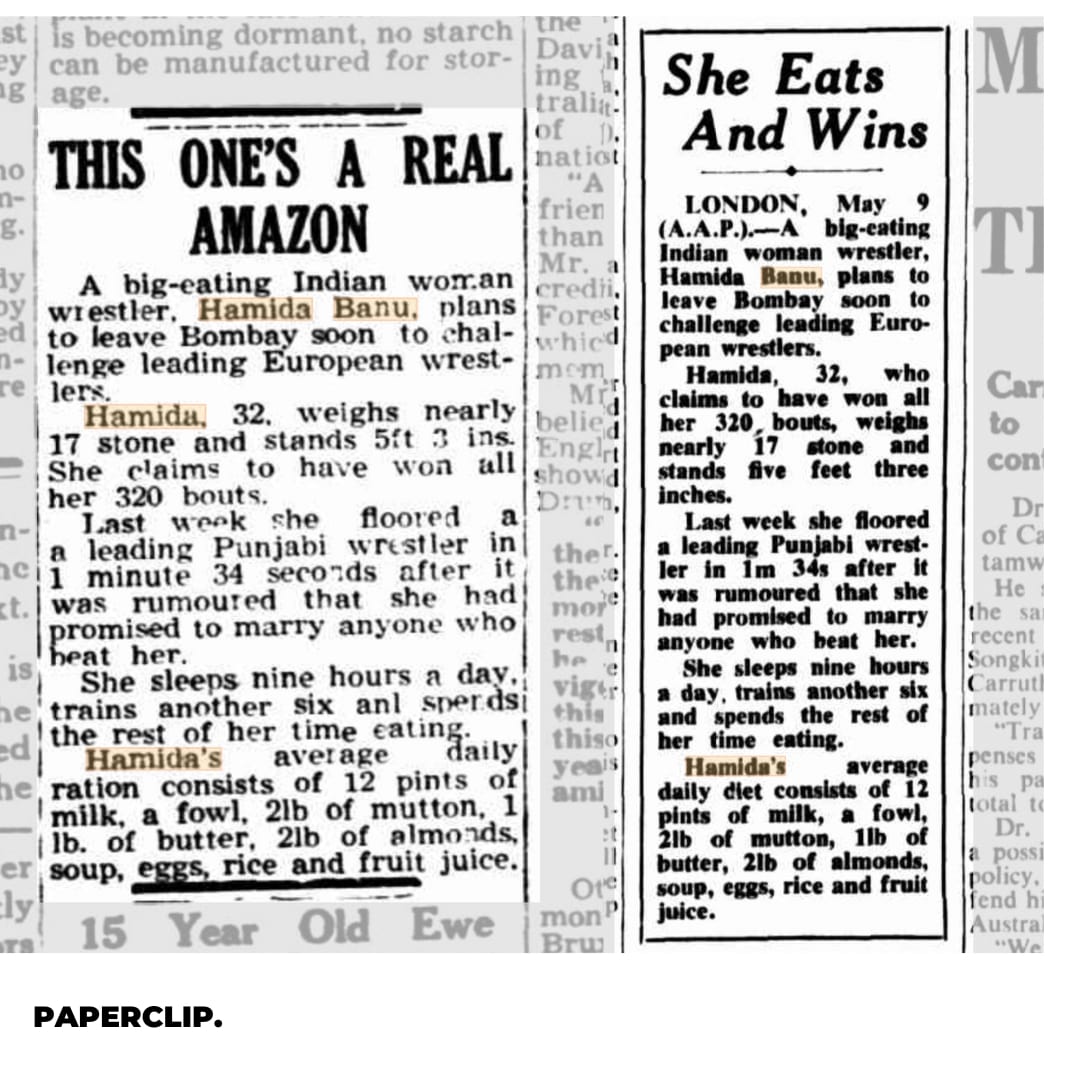 Hamida's remarkable story, as one of India's early female wrestlers, is one of grit, determination, and a refusal to be held back by societal norms. Yet, her story was forever lost. Will her legacy finally receive the recognition it deserves? It's on you.
Source and references: 
The Atlanta Constitution  1954-05-03: Vol 86 Iss 272,  Kahle/Austin Foundation, archive.org




The Washington Post  1954-05-09: Iss 28451, Kahle/Austin Foundation, archive.org

Majumdar, Should a woman wrestle?, The Bombay Chronicle, 9 July 1939, archive.org

Saturday Evening Express, 22 May 1954, trove.nla.gov.au

Ronojoy Sen, Nation at Play: A History of Sport in India, Columbia University Press
The story idea is from @myselfadi and thanks to Trove, Asiati Society of Bombay and Internet Archive for the research material.