Miss Dior
The rebel who inspired a perfume
In the World of fashion, Christian Dior is a name enlisted amongst the elites. Known for his artistic vision that revolutionized women's fashion, post the Second World War. There's hardly anybody who's not familiar with Christian Dior's fashion house but very few know that behind this successful brand, there's a hidden tale of a lady whose courage and sacrifice is unparalleled in history.
When asked about Christian Dior's work, Gabrielle "Coco" Chanel, who was Dior's predecessor in women's fashion and one of the leading  critics in the industry, said, "Dior doesn't dress women, he upholsters them."[1] However, Coco too was unaware of the woman who was the source of inspiration behind Dior's creations. To commemorate the inspirational woman behind his work, in 1947, he debuted into the world of fragrances with one of the most iconic perfumes ever created, "Miss Dior". As far as the folklore goes, the name came accidentally but as one gets to know more about Miss Catherine Dior, the name would hardly seem accidental.
Born on 2nd August 1917, Ginette Dior (who later changed her name to Catherine), was the younger sister of Christian Dior and the youngest family member in the Dior household at Callian, near Grasse in Provence. Although Catherine had four siblings, she was closest to Christian. So much so that it is rumored that since Christian's favorite day of the year was St Catherine's Day, Ginette changed her name to Catherine.
Shakespeare once wrote –
"What's in a name? that which we call a rose
By any other name would smell as sweet."[2]
Catherine Dior, though fairly justifies her name in most if not all aspects. She took the name from St Catherine of Alexandria, who once counselled Joan of Arc, and as far as the comparison goes, Catherine was not far behind in terms of the strength of character.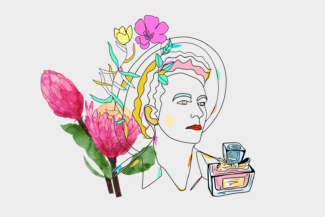 During  November of 1941, a 24-year-old Catherine was out to buy a good radio at Cannes' market. As she was scouting through different shops, she accidentally bumped into Hervé des Charbonneries, one of the founding members of the "French Resistance", the Polish intelligence unit based in France. It was love at first sight for her. Hervé, who was 36 at that time and already a father of three children, quickly realized that Catherine was no ordinary girl. She had a strong personality and there was a strange stubbornness about her that could be channelled to achieve great things. He influenced her heavily and made her realize the importance of the intelligence unit during the war and thus a month later, Catherine became an official member of the French Resistance.
Catherine was put in charge of the "Massif Central" section of the F2 network, a British-funded Resistance intelligence unit which was originally set up by the Polish government-in-exile to operate in France. Her primary responsibility was to transmit covert information regarding German movements and artillery to the British government in London. She was on top of her job and to expand her network, she used to chair secret meetings at Christian's apartment in Paris. However, she never involved her dear brother or any of her family members into her business as their safety was also of paramount importance to her. Besides, Christian was already a revered fashion designer by then and had received threats from the Nazis to shut down his business altogether.
Her stint in the intelligence agency came to an end on 6th July 1944 when she was arrested by the Gestapo along with 26 fellow comrades. Catherine was in the Gestapo's radar for a long time as her network was considered to be the most dynamic in entire Europe. As a result of that, she was interrogated and tortured repeatedly by the notorious security-service unit. Despite their best efforts, the Gestapo officers failed to extract any information from her. Back in Paris, Christian was trying his best to arrange her release with the help of the Nazi contacts he had made during his business tours. When that didn't work, he reached out to his good friend Raoul Nordling, the Swedish consul-general for help. Nordling pulled some strings inside the Nazi offices and somehow managed to persuade them to place Catherine under the supervision of the Swedish state. But it was too little too late for her as by the time the letter had reached its intended recipient, she was already deported along with 1,654 men and 542 women on a prison train leaving Paris towards the women concentration camp at Ravensbrück, 50 miles north of Belin under the supervision of SS leader Heinrich Himmler, one of the main architects of the Holocaust.
From there, it was a one-way road to suffering for Catherine. She along with her fellow comrades were identified as political prisoners hence their verdict would be extermination through work which, in simple terms, meant slave labour. It was the start of her suffering; she was stripped of her clothes, given grimy rags to wear, beaten regularly throughout her working hours, and was not allowed to sleep. Soon she was transferred to the military prison of Torgau and posted to the all-female "Anton Kommando" to work on the production of explosives in a disused potassium mine. The Nazis denied all her human dignities and yet they failed to break her stubbornness. Going above and beyond all her debility, she tried to disrupt the weapon manufacturing; first at Torgau then at Abberode, a satellite camp inside one of Buchenwald concentration camps. As the winter came closer, Catherine's head was shaved, and she was severely beaten after being stripped of her remaining clothes and then transferred to an aviation factory at Leipzig-Markkleeberg in a train. The journey from Abberode to Leipzig took several days and during this time she was inside a freezing cattle truck without any supply of food or water. Catherine was suffering from pneumonia, dysentery, tuberculosis, and malnutrition. As she reached the factory in Leipzig, the exhausting workload made her increasingly weak.
Just when it seemed that death would be a mercy, she took one last leap of faith. On 13th April 1945, all the prisoners were assembled and asked to leave the camp. The journey was later referred to as "The Death March"[3]. Everyone was ordered to keep walking barefoot in freezing temperatures, without any food or water, under the supervision of SS officers who would shoot to kill anyone who would attempt to flee. Catherine did though. She managed to slip away as the march reached the destroyed city of Dresden. She stayed hidden amidst the chaos and ruins for several days, waiting for a miracle to happen.
Back in Paris, Christian had no clue about his dear sister's whereabouts. He made several futile attempts to seek information on her. Even his mentor and guide Madame Delahaye[4] who helped Christian establish himself in the fashion industry was of little help. Finally, on 19th April 1945, the Allied force captured the camp in Leipzig, and Christian was informed that his sister's name was found in the list of the prisoners. However, amongst thousands of prisoners, it was impossible to identify if she was alive at all. Eight days later, he received a phone call from Leipzig that his sister had been deported in a train bound for Paris along with other prisoners and would reach the next day. When he finally met his sister, the graceful lady was barely recognizable. She continued to suffer from trauma, panic attacks and anxiety issues long after returning home.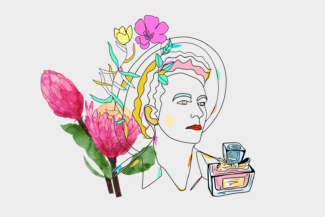 But, who could possibly cherish the beauty of life more than the one who has lived the horror of war? Catherine, who now had a second life, realized it better than most. She sought solace and found it in flowers. She worked for 12 years as a flower commissioner at the Halles de Paris, trading flowers from the south of France and the French colonies. Her passion for flowers influenced Christian deeply and thus the World was gifted with one of the finest fragrances ever created – "Miss Dior".
The story behind the perfume's name was found inside the Dior's archive in a written account by one of Dior's close friends. It says that Christian Dior, along with Dior House's director Mitzah Bricard, were brainstorming on Dior's debut perfume when Catherine suddenly entered the room unannounced. "Ah, here's Miss Dior!"[6] – Bricard said welcoming her presence; "Miss Dior: now there's a name for my perfume!"[7] – replied Christian. His own version of the inspiration behind the perfume also reveals his desire to cherish his sister – "I created this perfume to wrap each woman in exquisite femininity, as if each of my designs were emerging from the bottle, one by one"[8] – he announced during the unveiling of the perfume. Christian Dior also framed his sister's love for flowers in his 1949 Summer/Spring collection of Miss Dior gown which was decorated with 1000 elegantly embroidered silk flowers.
Seven years after her release, in 1952, Catherine testified against 14 Nazi officers who were running the Gestapo office in Paris. The justice was delayed but not denied. For her bravery and heroics, Catherine Dior was awarded the Croix de Guerre (A medal that's reserved for armed forces), the Combatant's Cross, the Combatant Volunteer Cross of the Resistance, the King's Medal for Courage in the Cause of Freedom, and later named a Chevalière of the Legion of Honour. Her final reward came eight years after her death, not in the form of any silverware though, but as an act that would have made her proud to think how she became a role model for the generations to come. On 24th June 2016, a public school[5] was renamed after her in Normandy, Dior's hometown, where the legend of Catherine Dior continues to live on as an inspiration.
It is said that a perfume not only holds a combination of signature aromatic notes but also reveals the character of the person who wore it. If that is to be believed, then Miss Catherine Dior remains an epitome of grit, resilience and indomitable power.
---
REFERENCES & BIBLIOGRAPHY:
[1] Vernose, Vienna. "The History of the Chanel Tweed Suit – The rich history behind what made one of the most legendary fashion pieces of all-time" from crfashionbook. CR Fashion Book. Accessed January 5, 2020. https://www.crfashionbook.com/fashion/a26551426/history-of-chanel-tweed-suit/
[2] Levenson, Jill L. Romeo and Juliet. The Oxford Shakespeare. Oxford: Oxford University Press, 2000
[3][8] Picardie, Justine. "THE SECRET MISS DIOR Justine Picardie uncovers the remarkable story of Christian Dior's sister Catherine, a French Resistance agent and concentration-camp survivor" from Harper's Bazar (UK). pressreader. Accessed March 1, 2019. https://www.pressreader.com/uk/harpers-bazaar-uk/20190301/281522227320248
[4] Spencer, Mimosa. "Dior Milestone: Christian Dior's Mystical Leanings" from WWD. Women's Wear Daily. Accessed September 26, 2017. https://wwd.com/fashion-news/designer-luxury/dior-milestone-christian-dior-astrology-10996357/
[5] "L'école publique devient l'école Catherine Dior". Ouest France. Accessed June 23, 2016. https://www.ouest-france.fr/normandie/la-haye-pesnel-50320/lecole-publique-devient-lecole-catherine-dior-4324461
[6][7] Pithers, Ellie. "Who was the original Miss Dior?" from Telegraph Beauty (UK). Telegraph UK. Accessed November 12, 2013. http://fashion.telegraph.co.uk/beauty/news-features/TMG10443967/Who-was-the-original-Miss-Dior.html